40 Space-Saving Ideas For Small Bedrooms That Will Also Save Your Sanity
Game-changing and stylish design solutions.
Cramped quarters can feel claustrophobic, quite frankly, unlivable. But sometimes we have no say in the size of our bedroom. And the good news is that little strategic styling and creative organization will make your small space feel pretty close to palatial. Okay, maybe not palatial per se, but roomy enough to be your oasis at the end of a long day, and stylish enough to show off. Just steal these designers' tricks, and you'll know size doesn't actually matter. Ahead, 40 game-changing small bedroom ideas.
🏡Love finding new design tricks. So do we. Let us share the best of them.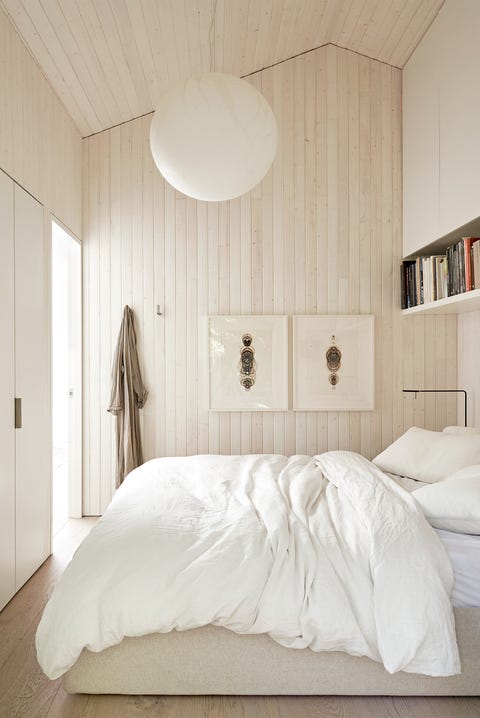 Less is more, particularly in a small bedroom. Despite a simple, soft color scheme and bare decorating approach in this minimalist bedroom by Studio DIAA no, it projects a strong sense of personal style and easy living. That's thanks to the polished materials and cohesive look.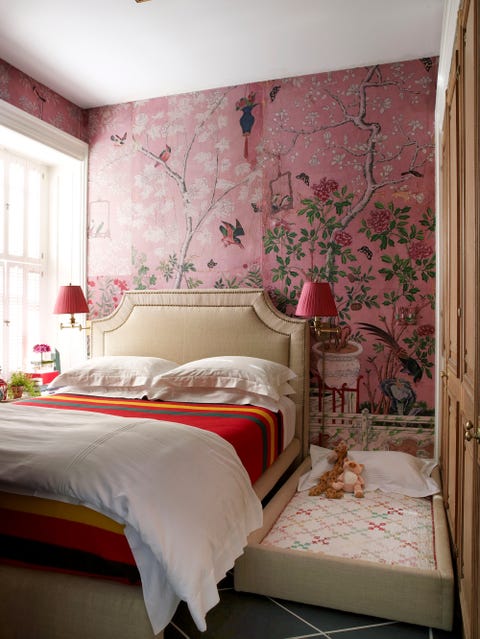 Designer David Kaihoi transformed this one-bedroom apartment into a family home. This little trundle bed tucks right back under the bed when it isn't in use, "first thing in the morning," says Kaihoi. And they use that windowsill as a bedside table.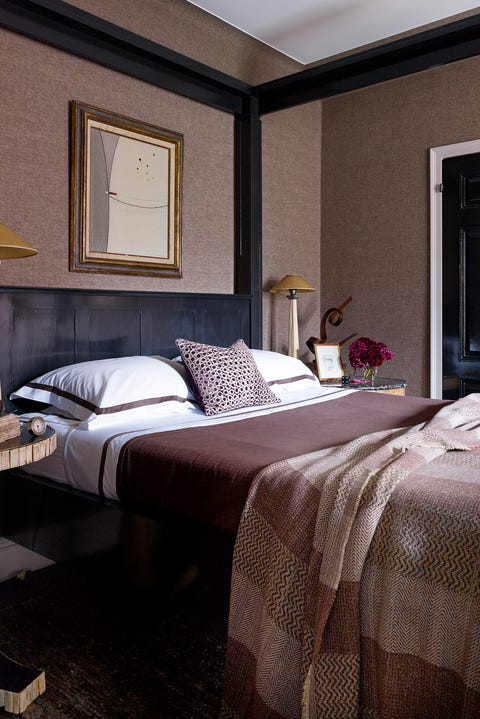 Designed by Balsamo Antiques and Interior Design, this bedroom proves that even if your space is mostly neutral, you can add character—and coziness—thanks to textures, unique combos, and sculptural silhouettes. This one is also wonderfully dark and moody for late sleep-ins. And don't let a smaller space stop you from choosing larger furniture. This statement four-poster bed is takes up most of the room, and that's actually a great thing.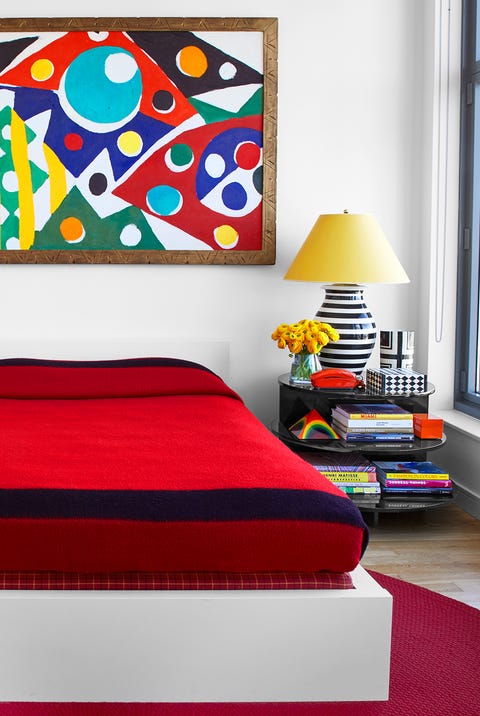 Keep it tailored but unique with fewer and bolder pieces. From the vibrant red bedding to the mod bedframe and graphic lamp, this bedroom designed by Anthony Baratta feels both crisp and deliberate, but there's still tons of personality packed in. Each piece also nods back to the brilliant abstract painting above the bed.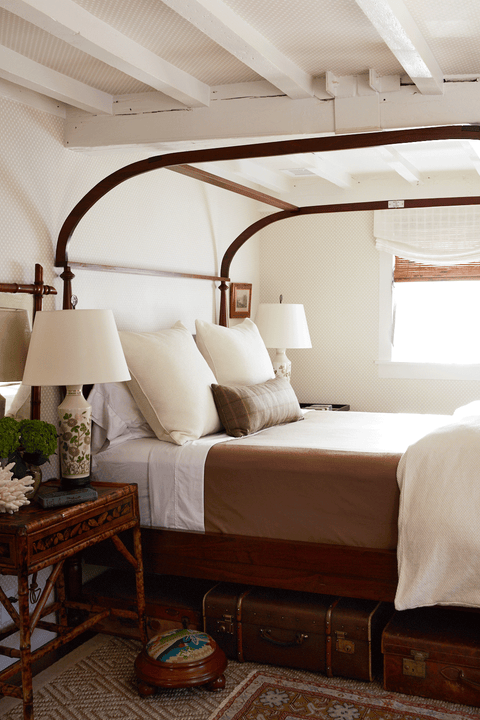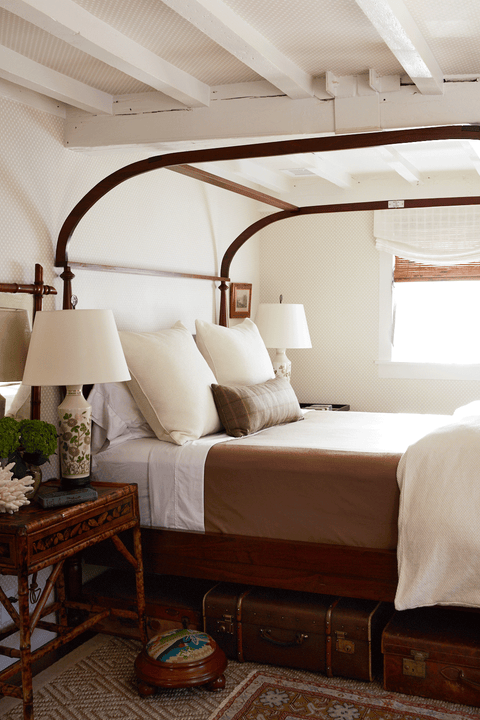 New England coastal charm meets rustic design with plenty of warm tones, antique pieces, and exposed beams painted white in this guest bedroom designed by Elizabeth Georgantas. Pro tip: Elevate under-the-bed storage with vintage suitcases.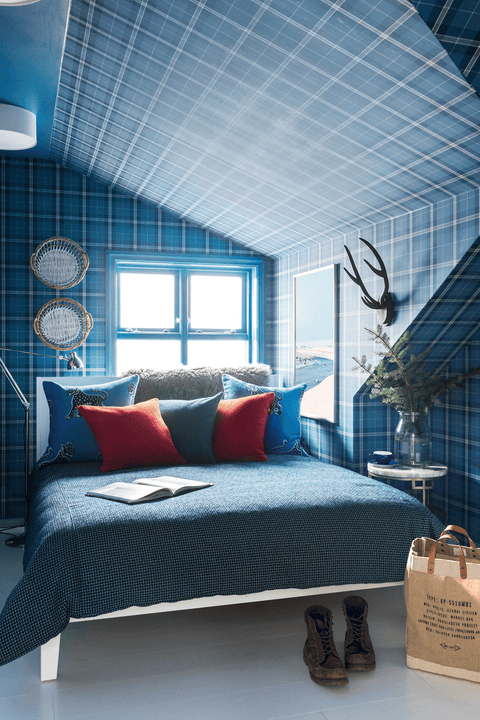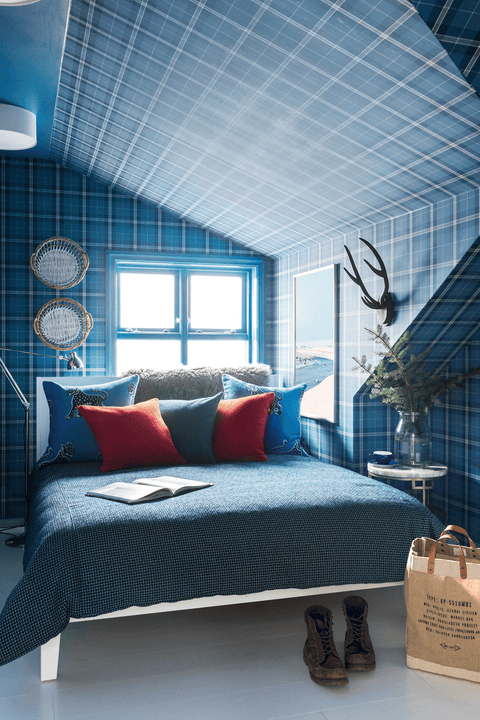 © Rustic White Photography
Brian Patrick Flynn turned this teeny-tiny bedroom into a whole wide world with rich wallpaper, dimensional wall decor, and perfectly proportioned furniture. The pops of red add a fun surprise and encourage us to mix primary colors.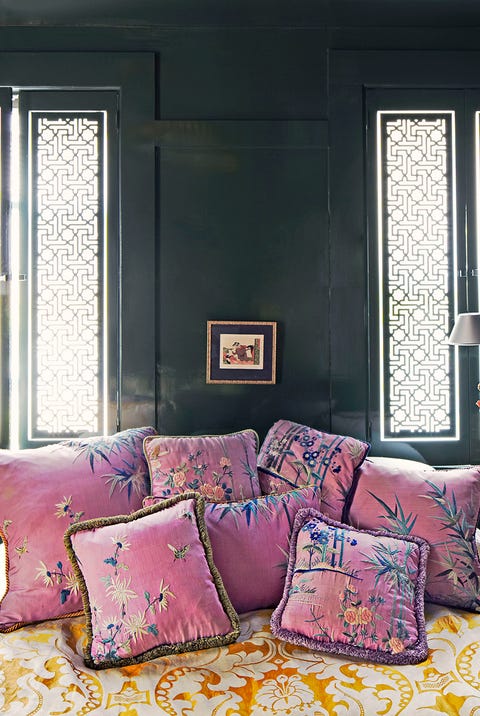 With tons of patterns, from the golden damask-print coverlet and the cozy pile of purple floral pillows to the intricate shutter design, this bedroom designed by Kristin Hein and Philip Cozi proves that you don't need a big canvas for the perfect little nest.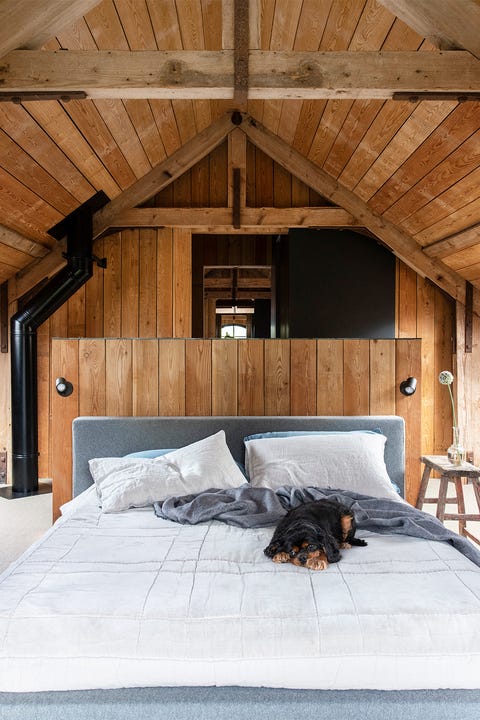 In a lofted bedroom, Keep the mattress low to the ground like architect McLaren.Excell did here. An antique work stool functions as a side table and the sconces are built right into the partial wall behind the bed.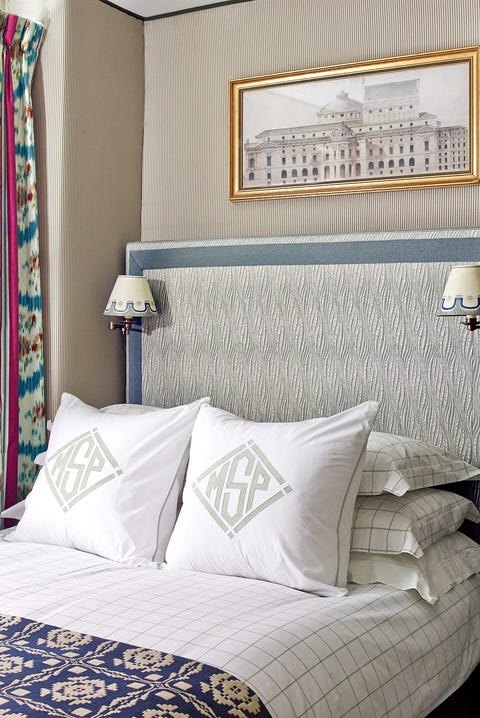 Customize bedding with monograms and match your lampshades to your headboard, but then get wacky with curtains and throw blankets. That will ensure the perfect balance between polished and fun.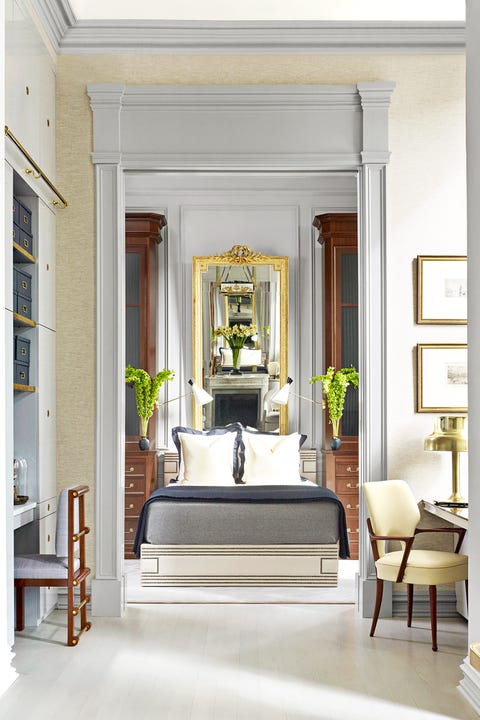 The design of this small apartment by Amir Khamnepur is rigorous in its symmetry. He actually moved the doorway so it perfectly frames the bed and his view of the mantle on the opposite side of the apartment. Another takeaway from this space: When you have a small bedroom but high ceilings, make use of all the extra wall space—pediments over doors make ceilings seem even higher.
11
Combine Dresser and Nightstands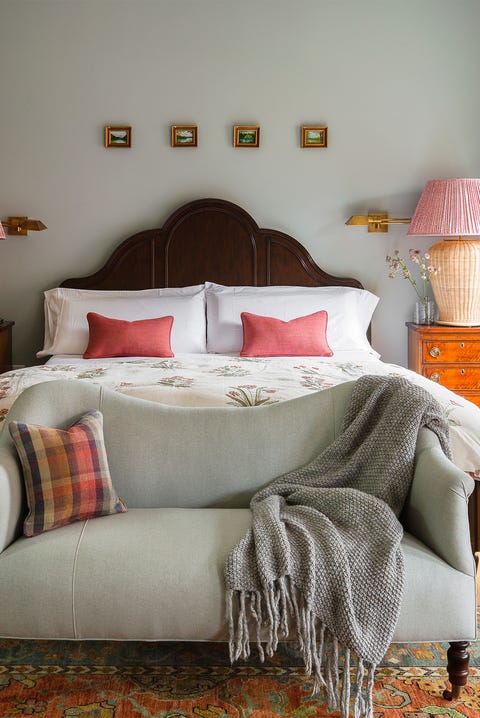 "I wanted to create a bedroom full of personality," designer Jae Joo says of the main bedroom in this Boston Rowhouse. With no room for both a dresser and nightstands, she opted for something that could do both at once. Though classic and understated, the room brims with character thanks to a shrunken photo gallery, curved furniture, and colorful accents.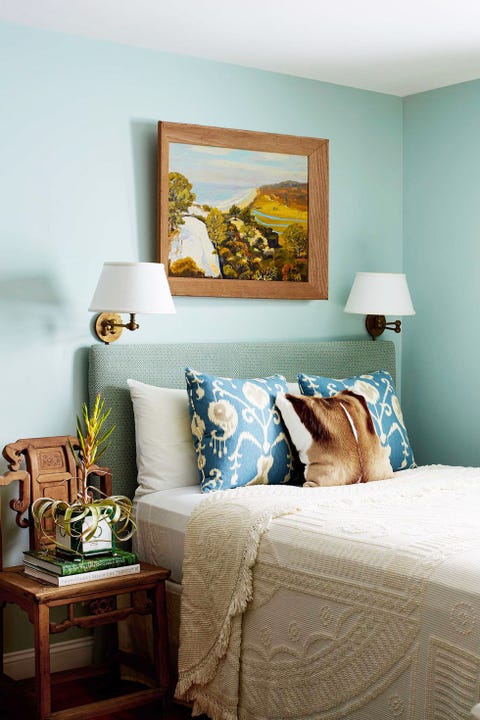 This pint-sized bedroom designed by J. P. Horton is flexing a few small space design secrets. First, the sconces, which don't take up any surface space since they're wall mounted, and second, the side chair, which can be pulled up as a bedside table when need be.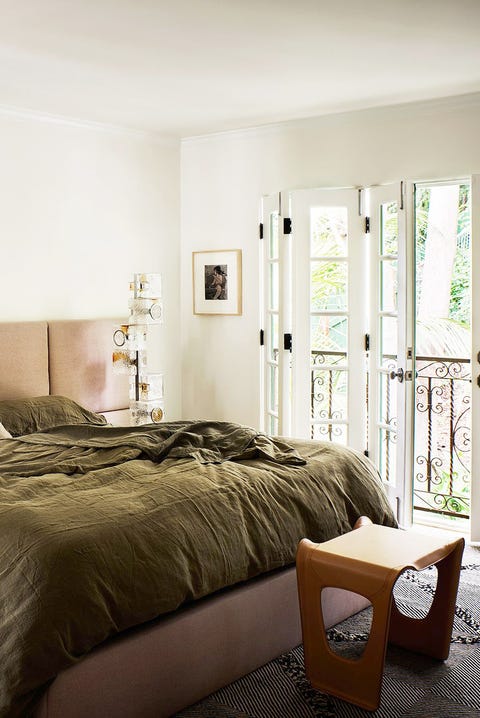 If you don't have enough room to pull up a bench to the end of your bed, try a stool instead. It'll add that desired design polish and give you somewhere to put on your shoes or store a blanket, but it won't look as bulky or take up as much visual real estate. Interior designer Brigette Romanek of Romanek Design Studio opted for a sleek caramel leather stool to contrast with the romantic blush bed frame.
14
Use All Available Surface Space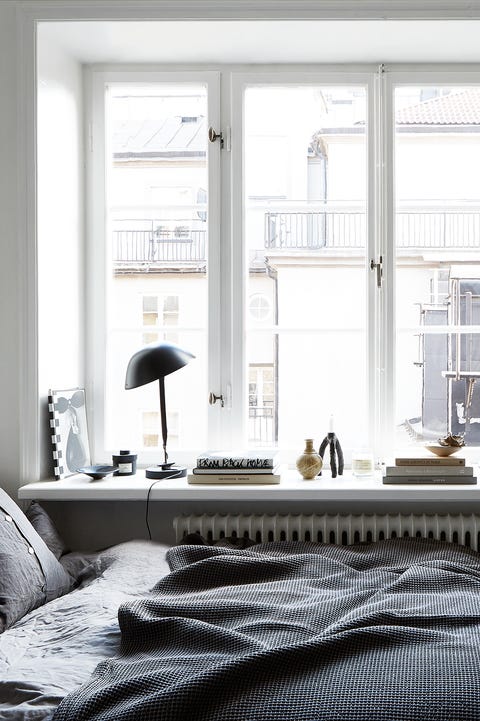 One of the biggest challenges in a small bedroom is finding places to put all your stuff since the bed takes up most of the room. Be resourceful! Even a windowsill can provide extra storage space for decor, lighting, and other essentials when there's no room for an extra table.
15
Go Wild With Wallpaper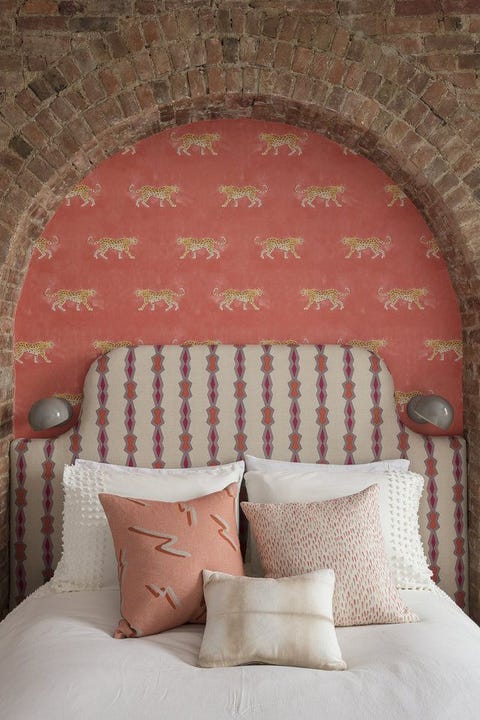 It might seem a little much for a small space, but a bold, bright wallpaper can help cocoon your room and give it a jewel-box effect. You don't need to cover the entire wall to make a statement. Just choose a smaller nook to cover in a fun print, as Studio DB boldly did in this bedroom.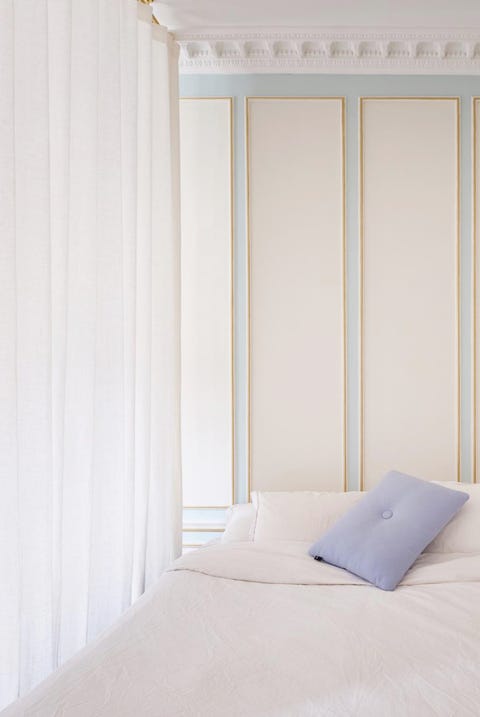 Embrace the tininess of a space and make it extra intimate and cozy with a sheer curtain around the bed. Jazz up the walls with paint, artwork, or wallpaper to bring in personality without taking up space.
17
Customize With Built-Ins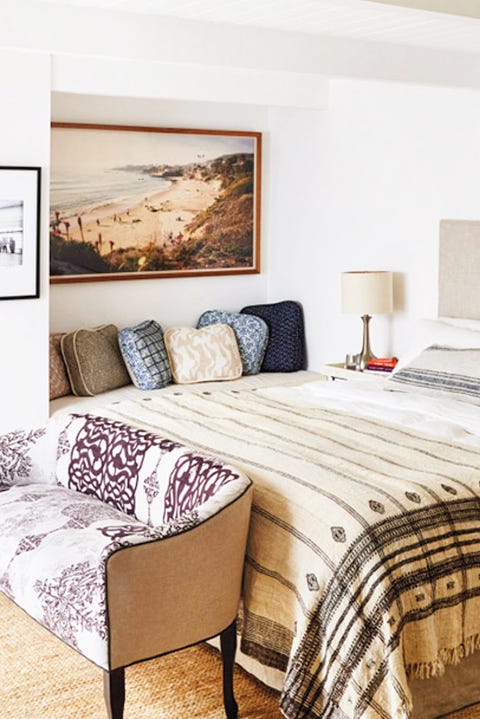 Take advantage of awkward niches, corners, nooks, and crannies with a built-in bench like Romanek Design Studio did in this bedroom. Even though it might not seem like useable space when you first look at it, a simple bench, cushions, and wall art can give it a brand new second life.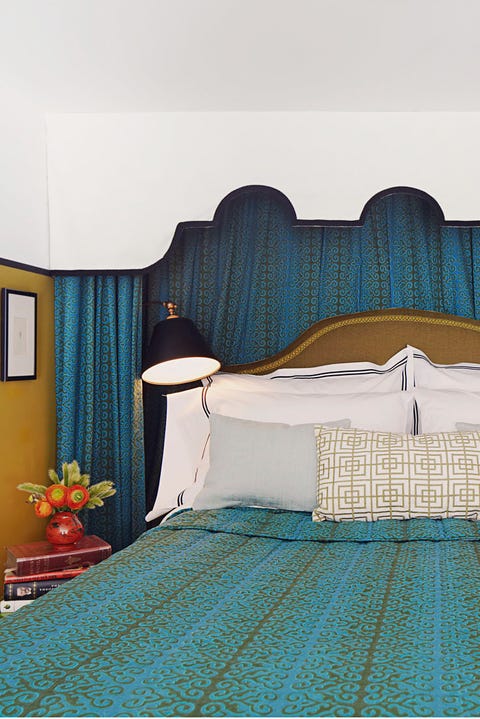 With no space for extra fun elements like floor lamps and a canopy, designer Peter Durham created a custom curtain wall and installed bedside sconces.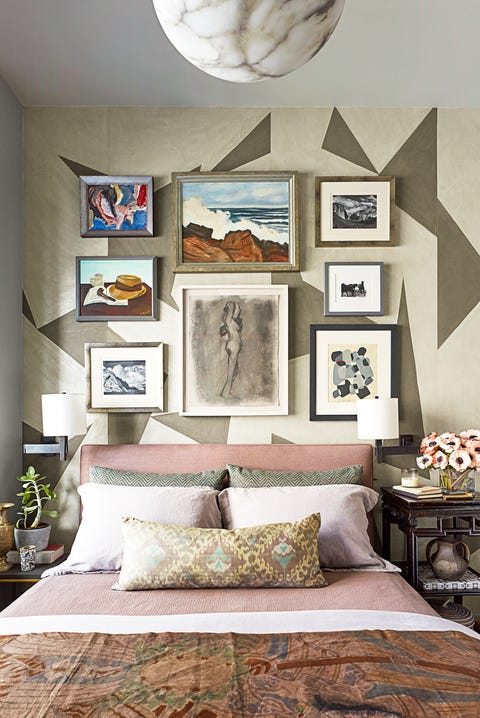 Each item is carefully chosen to work within this small space. For example, the narrow bedroom table fits into the little nook perfectly, and since it's on the slimmer side, they made sure the two-tiered table on the other side of the bed offered extra surface space. Then, they went vertical with a gallery wall to draw the eye up.
20
Install Inventive Storage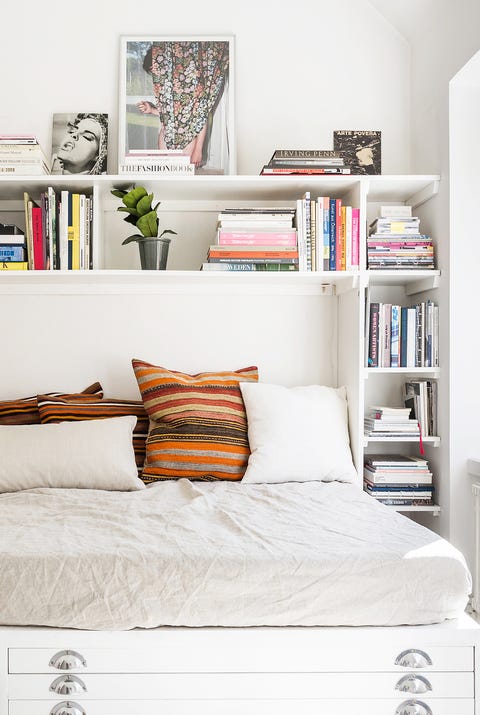 When you have a teeny-tiny bedroom, you have to get scrappy and strategic about storage space—otherwise, you'll never find what you're looking for unless you stub your toe on it. Take inspiration from this space, where the bed has built-in drawers and is framed by a bookshelf, which allows for extra storage space as well as a place to display decor and art.
21
Use Strategic Furniture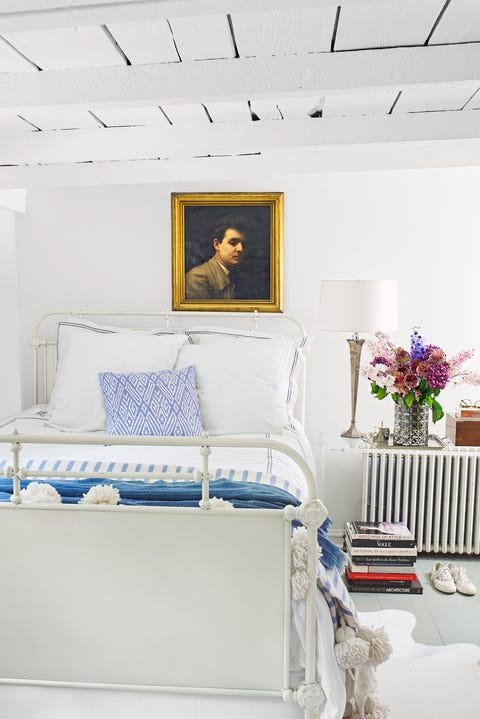 Lucite is your best friend in small spaces. This bedroom in Jennifer Miller's Hamptons home is another gorgeous example of how to make tricky preexisting quirks work for you. Miller opted for a lucite console table (look closely) for a hint of modern style that doesn't make the room feel too cramped. And it's just tall enough to slide over the radiator without taking up literal or visual space in the tiny room.
22
Pay Attention to Scale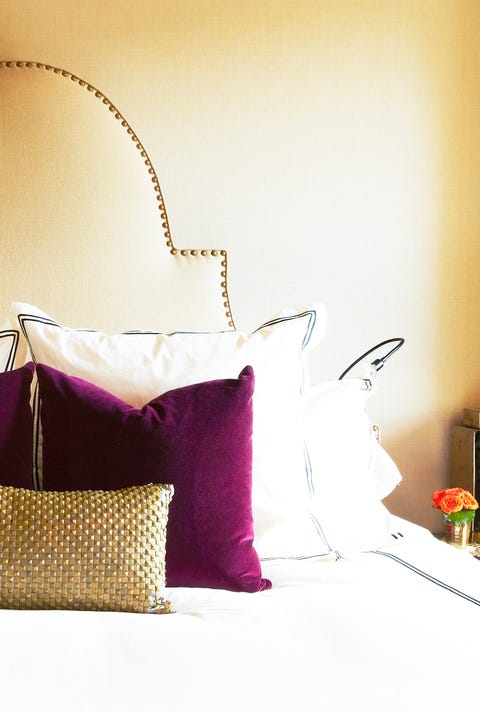 In a small bedroom, have fun with color, shape, and prints, but don't go overboard—and pay close attention to scale. Take a cue from this bedroom designed by Danielle Colding, where even the tiny vase speaks to the proportions of the space. And you don't have to keep your walls plain, boring white. Here, the studded headboard adds a touch of intrigue but blends right into the beige wall behind it.
23
Use Multi-Purpose Furniture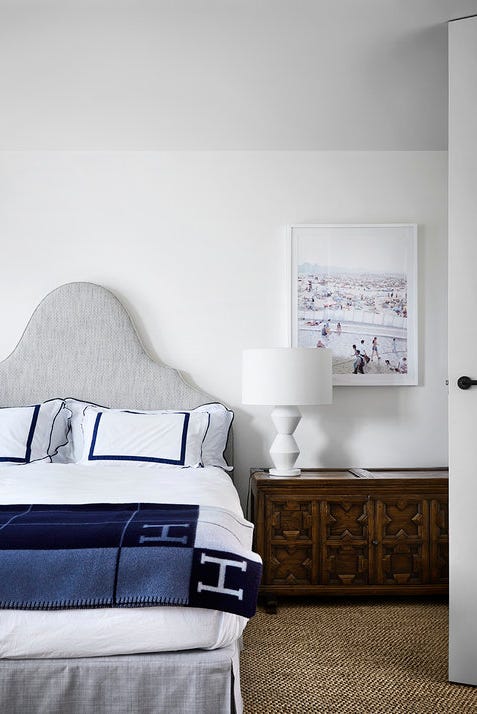 In this bedroom designed by Tamsin Johnson, the nightstand doubles as a dresser. If you can only fit one piece of furniture in your bedroom, make sure it's one that offers a few functional benefits.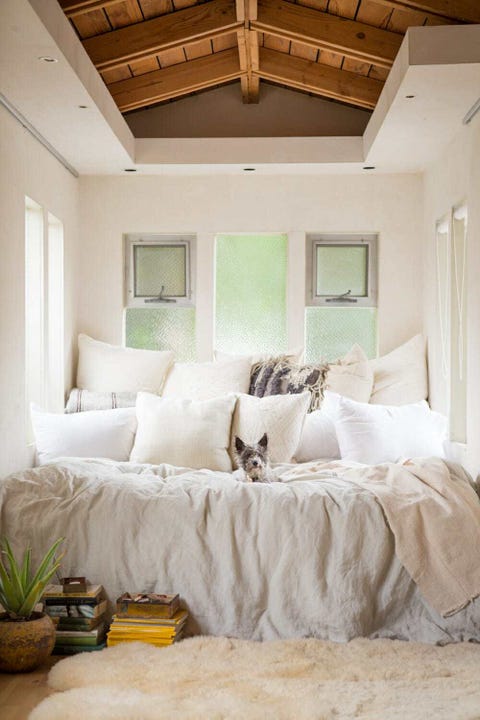 The bed in this guest room designed by Leanne Ford Interiors takes up pretty much the entire space, but rather than looking overly cramped, it looks like a stylish and fluffy cloud. The layers and layers of plush materials, tons of throw pillows, and neutral color palette make it work.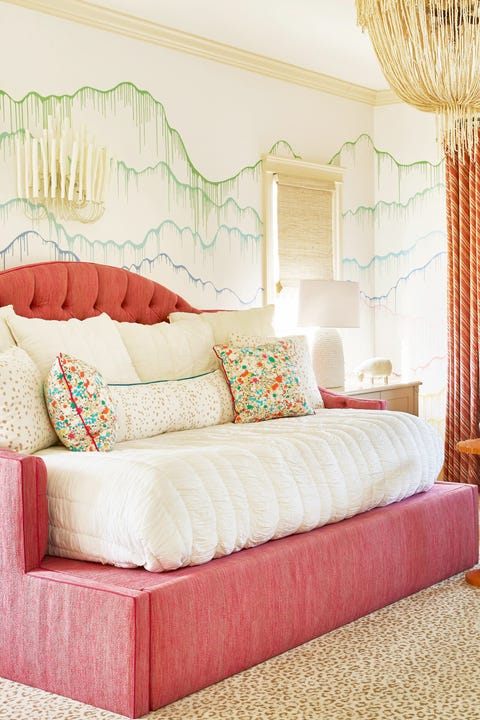 Add a daybed and watch your bedroom double in size. If you don't have a designated guest room, this could also come in handy in your family room or home office that doubles as a guest room. In this space designed by Toledo Geller, the daybed pulls out into a trundle bed for sleepovers.
26
Customize Your Headboard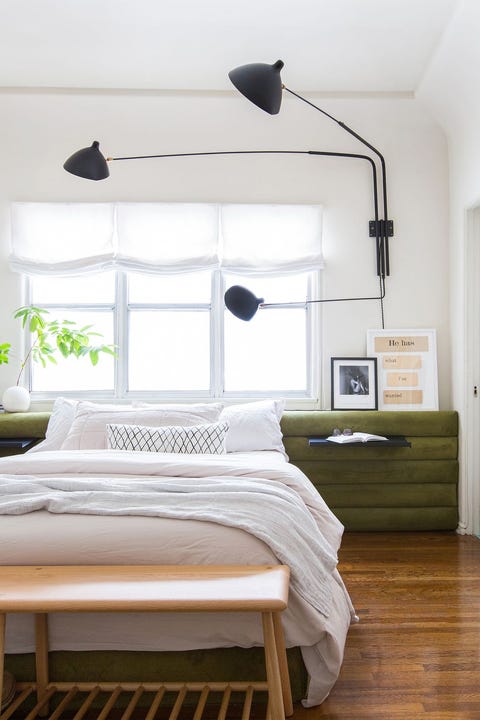 This wall-to-wall upholstered headboard was custom designed by Brady Tolbert for Emily Henderson Design to meet the homeowners needs function and style-wise. That's a guaranteed way to make sure your bedroom is everything you want it to be. In the case of a small bedroom, a custom headboard with built-in nightstand saves tons of space.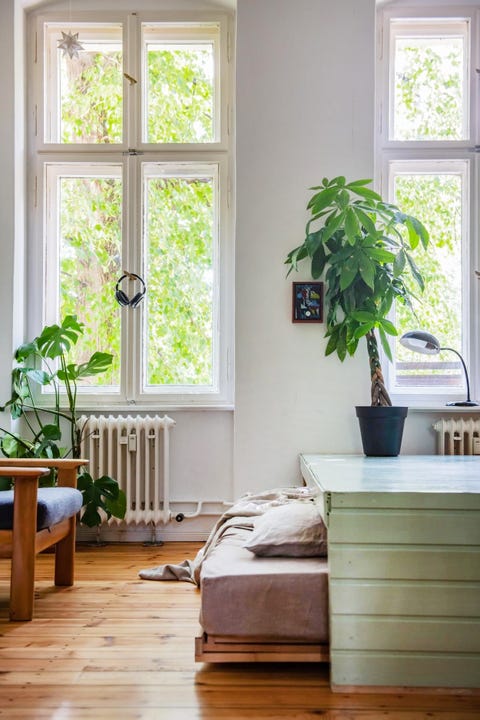 If you live in a studio or need or use your bedroom for more than just sleeping, consider a DIY trundle bed or a solid platform with a retractable bed under it. In this space, the wooden platform makes room for a sofa so there's somewhere to sit instead of the bed. It's kind of like a Murphy bed but easier to create yourself.
28
Use Bigger (But Fewer) Furnishings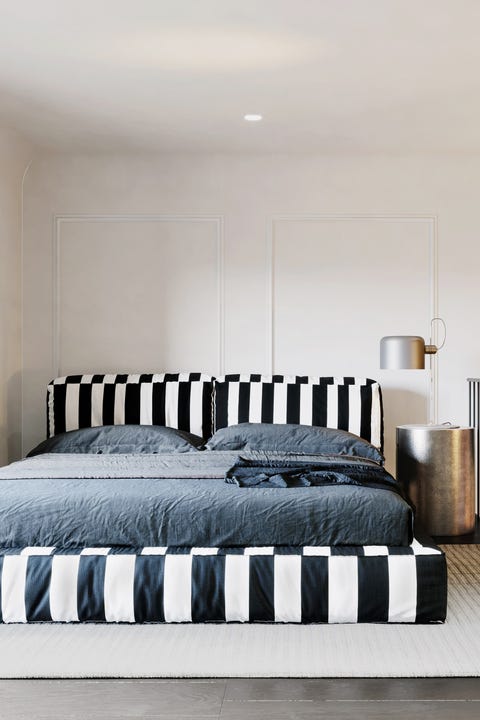 It may seem counterintuitive, but outfitting a small space with just a few large-scale pieces (rather than a mishmash of pint-size furniture) can actually make it feel grander. Resist the urge to push all of your furniture up against the walls. If you leave space behind the furniture, it makes the room look wider than it is.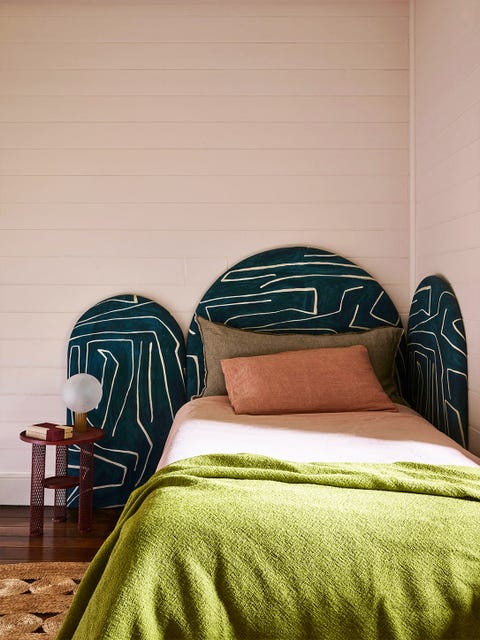 If you need to sacrifice your queen or even your double, don't fret. A twin bed still has plenty of potential to be your stylish dream spot. In this small bedroom designed by Arent & Pyke, the custom corner headboard upholstered with Kelly Wrestler fabric sets the tone for a room that stands out, no matter its size.
30
Put Everything On the Floor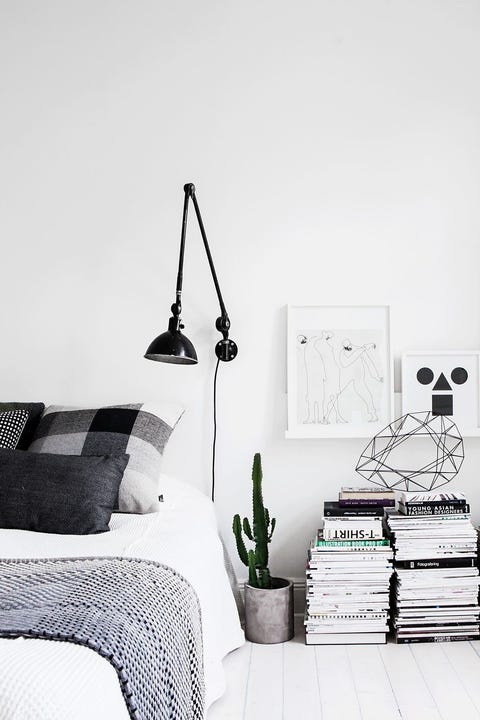 Stay grounded and go bed frameless. Literally closer to the ground, this bedroom is simple, streamlined, and encourages wellness, rest, and inner peace.
31
Bring In Foldable Pieces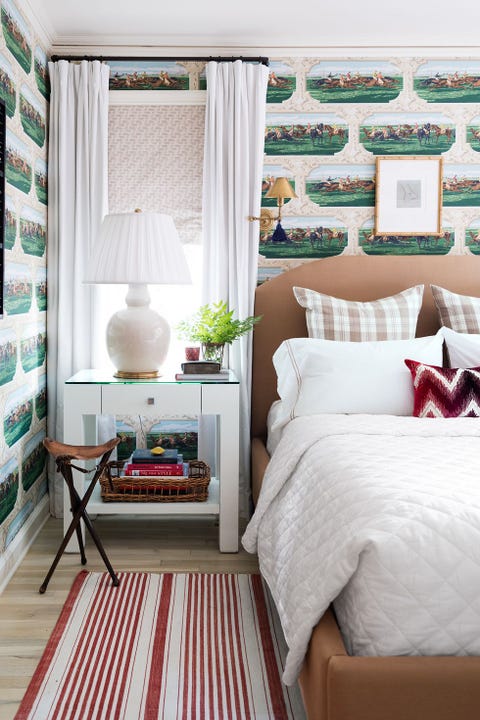 Can't fit an accent chair into the corner to pile all your clothes on? Use a slim stool instead—even better if it's foldable so you can tuck to away when not in use. This will the mess to a minimum. Decorated by Shaun Smith, this bedroom is a great example of bold yet sophisticated style and cohesive pattern play in a tiny space.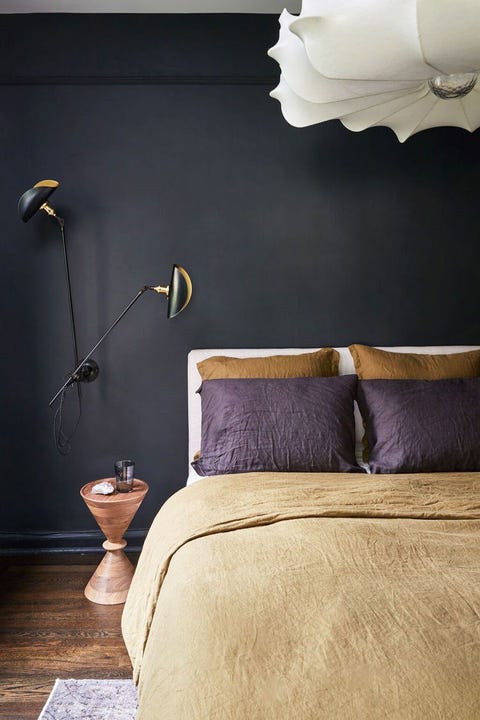 Contrary to popular belief, dark colors don't necessarily make a room feel smaller—sometimes they even have the opposite effect, creating the illusion of an expansive space. The sandy hues of the duvet blend so nicely with plum pillows, both of which are sharpened by the inky wall paint. The linen bedding softens up the edgier feel of the black paint in this bedroom designed by Tali Roth.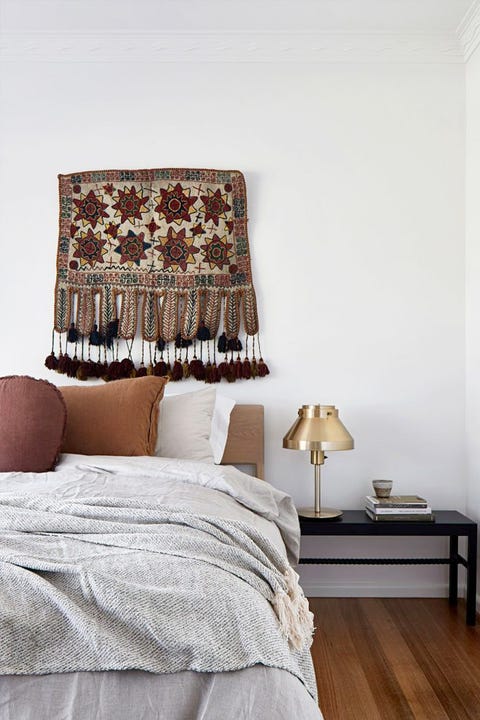 You don't need a giant headboard taking up your entire wall. Instead, choose a skinnier, shorter headboard. That way, you'll save wall space for wall art or decor.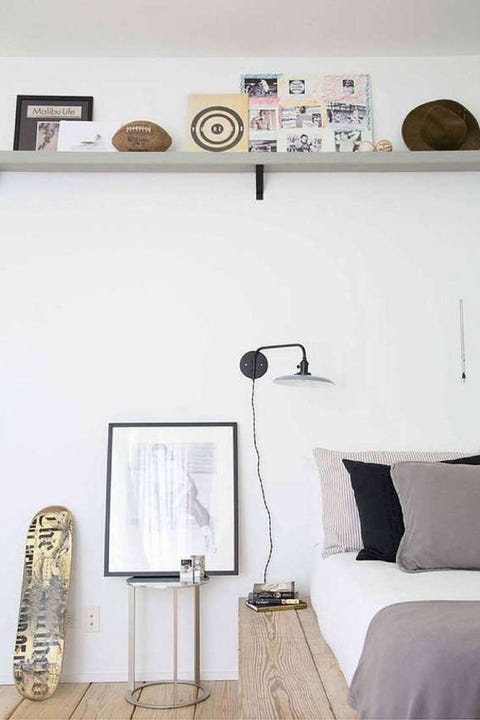 Built-in and low to the ground, this bed boasts an easy coolness. It was designed by Southern California-based Alexander DB, so no wonder it exudes that quintessential Cali cool charm. Add a floating shelf to use your vertical space for displaying artwork and storing knick knacks.
35
Put Stuff Under Your Bed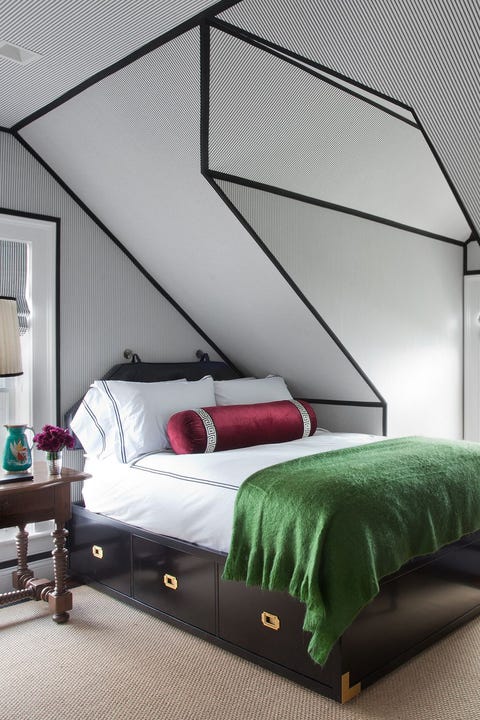 In this bedroom by Martin Lawrence Bullard, the preexisting architectural quirks are played up by a graphic, linear wallpaper that contrast with the more traditional elements throughout the space. But the most genius element? This bed has drawers underneath for more storage when you're lacking closet space.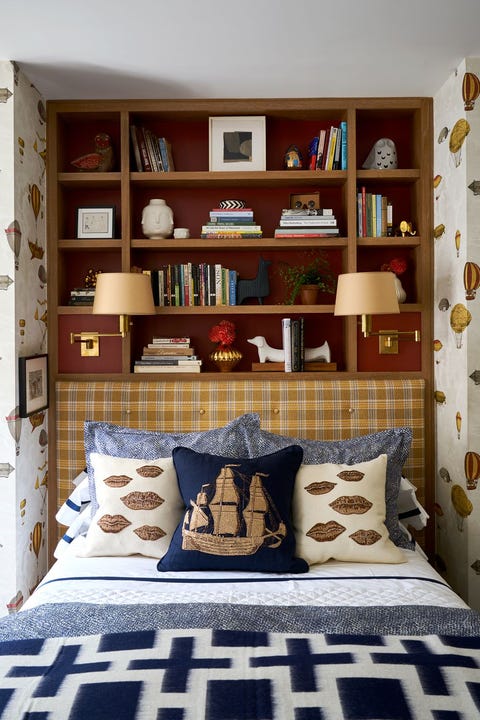 Built-in bookshelves give you extra storage space without having a chunky piece of furniture protruding into the room.This hot air balloon printed wallcovering brings a sense of dreaminess and movement to the small bedroom. It's a beautiful way to frame the wall of built-in shelves. Designer Katie Lyndon aptly describes it as both classic but imaginative.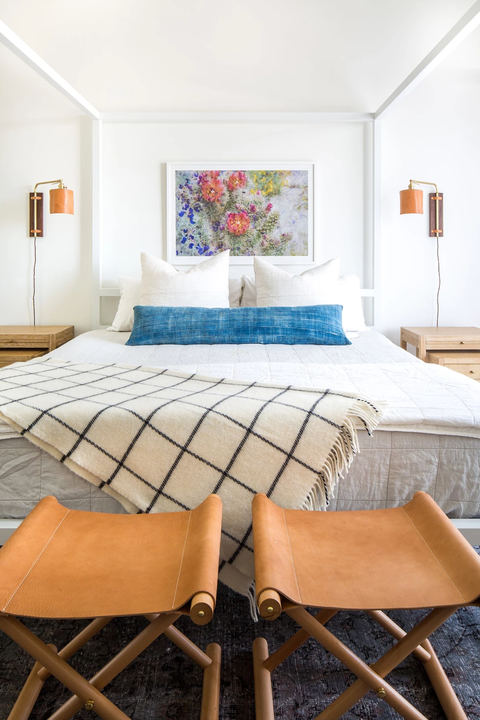 Courtesy of Veneer Designs
This bedroom by Veneer Designs proves that the more white the room is, the more light and airy it seems. Add dimension with subtle pattern and neutral accents, like these tan stools.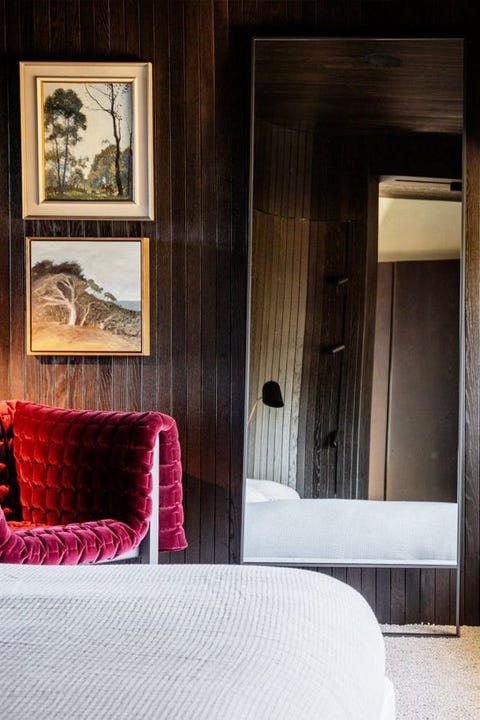 Now here's a bedroom that knows how to set a mood. With plush velvet seating, dark wood paneled walls, and classic landscape photos, this bedroom designed by Hecker Guthrie is a beautiful blend of classic and modern style. To make the room feel larger, lean a modern mirror against the wall, as done here.
39
Place Your Bed Against The Window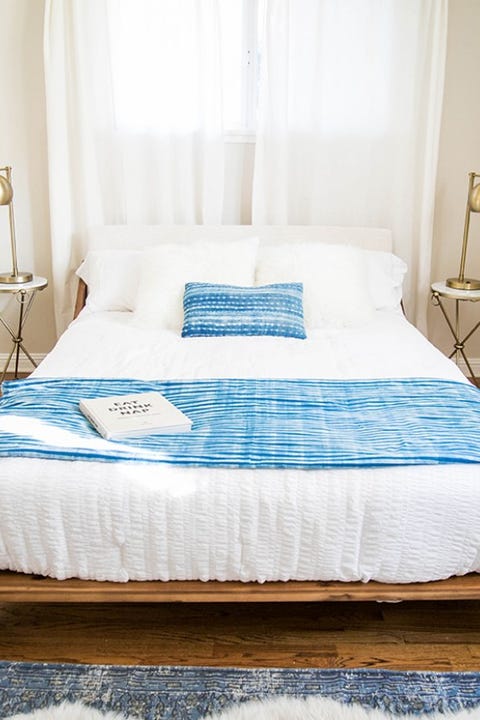 Courtesy of Sugar and Charm
In a small bedroom, wall space is precious and should not be wasted, so don't be afraid to put your bed beneath the window. In this bedroom by Sugar and Charm, the window and curtains create a natural focal point.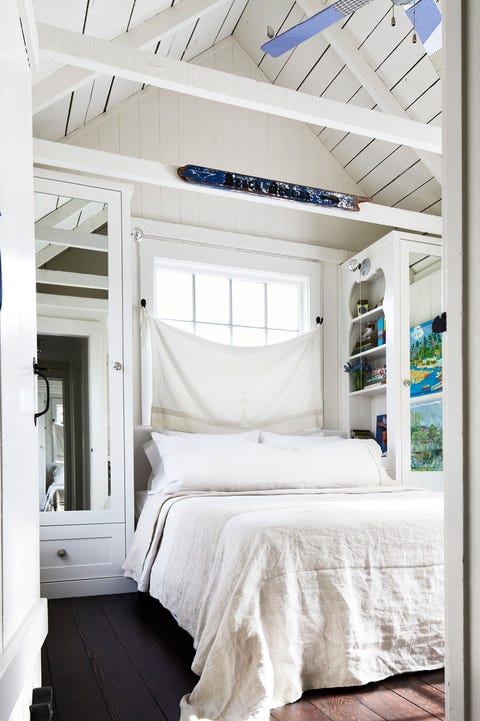 Fake space 'til you make space. Closet mirrors make this small bedroom feel larger than it actually is.
This content is created and maintained by a third party, and imported onto this page to help users provide their email addresses. You may be able to find more information about this and similar content at piano.io