Every item on this page was hand-picked by a House Beautiful editor. We may earn commission on some of the items you choose to buy.
The Best Christmas Tree Stands You Can Buy This Holiday Season
They'll keep your trees snug and sturdy.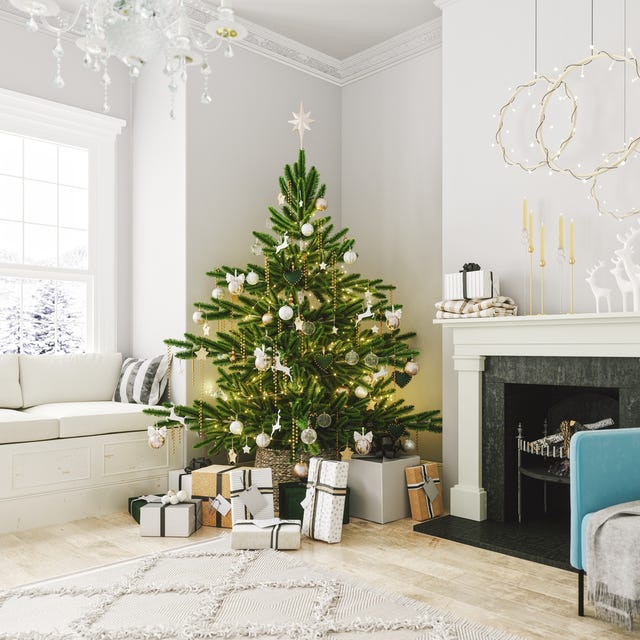 You put in a ton of hard work and dedication into finding the ultimate Christmas tree for your home (or, okay, maybe you hauled it there from a grocery store—but hey, that's still a lot of work!) so don't let it go to waste. A good Christmas tree stand can help keep your tree stable, hydrated, and alive longer (not to mention, help you show off your tree's best side), so they're worth the investment—unless you plan to go the artificial tree route.
Maybe you prefer the traditional bolted stand, or maybe you're in the market for a piece that's designed to roll to any room in your home. Maybe you're just glad your beloved tree remained on top of your car. In any case, these are the best Christmas tree stands you can buy this holiday season, and why they're worth the purchase. We even found a stand that's secure enough to hold the biggest tree you can fit inside your house. Add your favorite ornaments, and you're good to go!
Christmas Tree Stand Rolling Wheels
If you're never really sure where to place an artificial Christmas tree or if you have a small space, a stand with rolling wheels will help you navigate your holiday decorations. This stand won't glide away when you choose the lucky room in your home to place your tree, either, since there's a handy lock function.
Best Overall Christmas Tree Stand
Tree Genie XXL
The Krinner Tree Genie is the best-selling Christmas tree stand on Amazon, and for good reason—all you have to do is put your tree in and pump the foot pedal to tighten it in place, and it only takes a minute. It can secure any tree up to 12 feet tall and has a basin that retains 2.5 gallons of water, plus it has an automatic water level indicator so you can easily see if it's running low.
This environmentally-friendly option is perfect for your decked-out Christmas tree. The modern stand is washable, waterproof, and carries a high water volume. Your only cleanup concern will be gift wrap!
Easiest-to-Use Christmas Tree Stand
Smart Stand
Black + Decker's Christmas Tree Smart Stand boasts a 10-second set-up time with no bolts to screw in and no pedals to pump. It can secure trees up to 9 feet tall (the XL version can go up to 11 feet) and locks your tree in place with a trio of steel blades. It can also hold up to 1.58 gallons of water.
Best Affordable Christmas Tree Stand
Oasis Christmas Tree Stand
If you prefer the traditional, bolted Christmas tree stands, this one's affordable and a customer favorite. Five bolts keep your tree (anything up to 10 feet tall, with a trunk of up to 6.75 inches) in place, and its 1.5 gallon water capacity keeps your tree hydrated. It also features a spill-catching edge to keep water off your floors.
Best Metal Tree Stand
Welded Tree Stand
This steel tree stand has two major things going for it: First, it's not bulky at all, and second, it's heavy duty enough to hold the biggest trees of all the stands on this list. It can keep trees up to 14 feet tall with 8.25 inch trunks stable with the four bolts inside.
Stella Christmas Tree Base
Festive and fashion-forward, this teak wood tree stand will hold your tree together with four screws and a spike. What makes it even more magical? The cup within the base can be filled with water to prevent your Christmas tree from drying out.
Best Swivel Christmas Tree Stand
Emerald Innovations Swivel Straight Tree Stand
The Swivel Straight stand is a great option for all you perfectionists out there—it'll keep your tree stable and watered (the water basin can hold 1.5 gallons) like the rest, but it also allows you to swivel the tree around to show off its fullest, most Instagram-worthy side. It works for trees up to 12 feet tall with a trunk diameter of up to 5.75 inches.
Most Adjustable Christmas Tree Stand
St. Nick's Choice Pivot Point Tree Stand
With a swivel feature and then some, this tree stand is the most adjustable pick on this list. Crooked trees no more, thanks to this stand's ability to rotate and tilt, so you can even out your tree to festive perfection. As for sizing, this stand can hold trees up to 9 feet tall, with trunks up to 6 inches in diameter.
Best Tabletop Christmas Tree Stand
Tabletop Christmas Tree Stand
With a reservoir and spill guard, you can't go wrong with this tabletop tree stand designed for smaller trees up to 5 feet tall with a trunk up to 3 inches in diameter. The tempered steel bolts keep the tree securely in place—especially important when you've got your tree elevated on a table.
Gold Metal Rotating Tree Stand
If you prefer something that feels a little more stylish for your artificial tree, go with this rotating gold stand that would transform your space into a glamorous winter wonderland.
Most Stylish Christmas Tree Stand
Heirloom Cast Iron Christmas Tree Stand
A little more decorative than the other options on this list, the Heirloom stand from L.L. Bean combines form and function for the ultimate combo. The hammered, powder-coated cast iron stand features three bolts and a tree-centering spike, and it can hold a tree up to 8 feet tall with a 5-inch thick trunk.
This content is created and maintained by a third party, and imported onto this page to help users provide their email addresses. You may be able to find more information about this and similar content at piano.io