52 Easy Fireplace Decorating Ideas That'll Look Stylish All Year Long
From minimalist designs to decked-out mantels.
Winter may have come and gone (we're not sad about it, either), but that doesn't mean your fireplace is going anywhere. So we gathered up 52 easy fireplace ideas that will make yours look timeless and stylish no matter what time of year it is. From detailed stonework to over-the-top marble and modern mantles, these fireplaces will make any living space interior design goals regardless of whether or not it's snowing outside.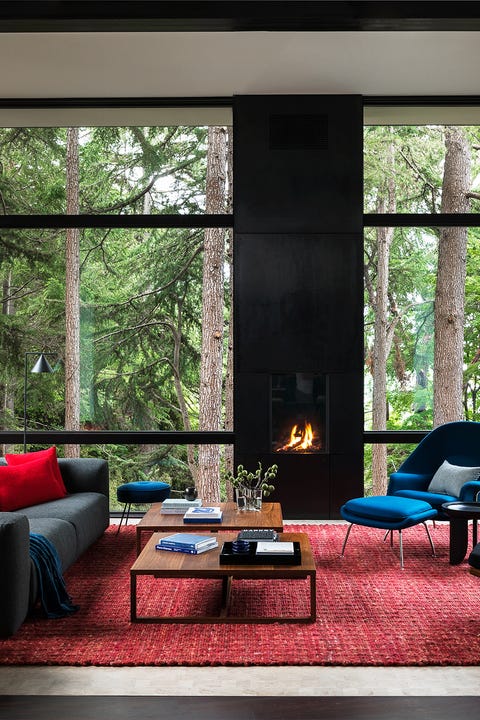 Don't Block the View
Designer Andy Beers of Ore Studios describes this cantilevered living room as a "large transparent jewel box that hangs over the forest floor." So "seating is transfigured around a fireplace for a kind of campfire sense."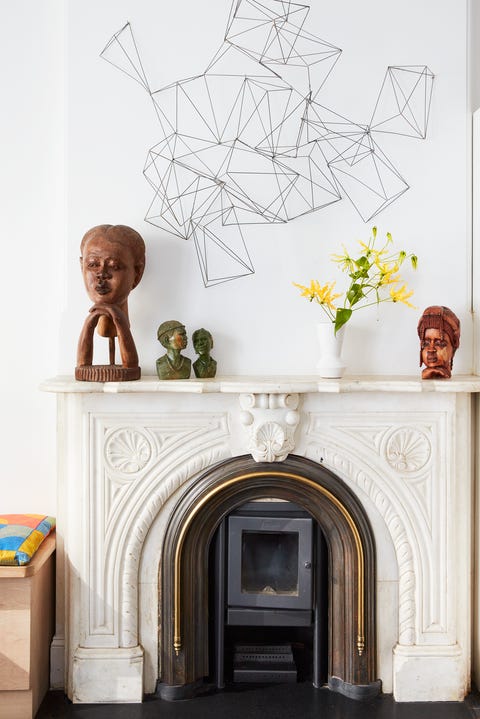 Mix Old Style and New Tech
In her Brooklyn brownstone, designer Delia Kenza honored the original style of the home's architecture, ornate granite and all. She inserted a new (but antique-looking) wood-burning stove that produces real fire but eliminates the risk of the indoor smoke you'd get from a masonry fireplace.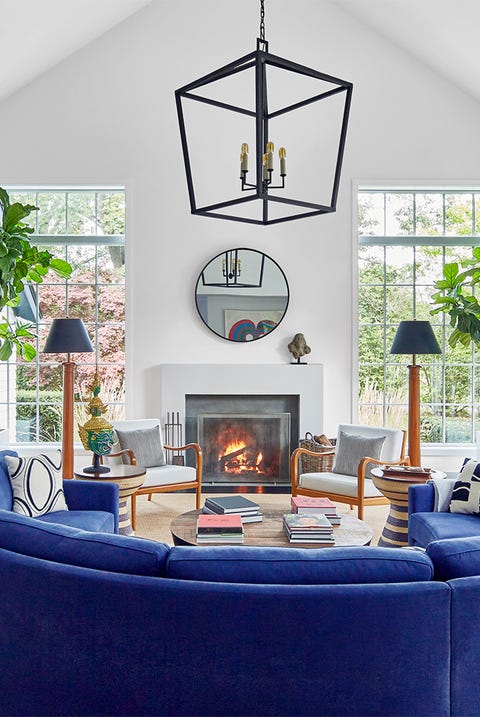 Inspire Conversation
A large semi-circle sofa in this living room designed by Aamir Khandwala is a great way to ensure that no one fights over a nice view of the trees as well as the fireplace. Plus, it allows for good conversation and visual intrigue.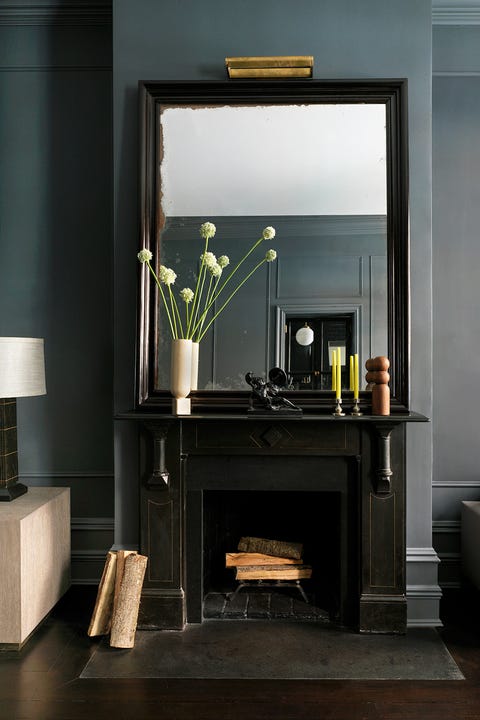 Give It a Second Life With Black Paint
If you want to make a brick fireplace feel new again, dark paint can be moody and unexpected, like on this inky black fireplace in a Nanette Brown-designed living room. It looks elevated, sophisticated, and clean (because black paint conceals soot!).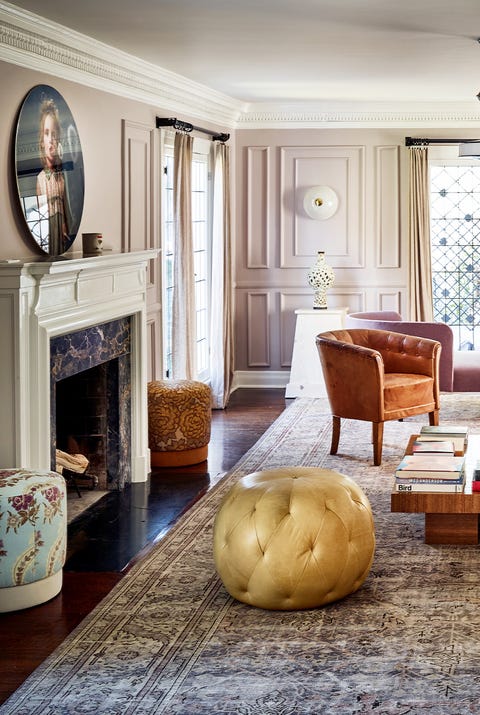 Choose Complementary Paint
To give a more traditional fireplace a youthful feel, paint the surrounding walls an unexpected color and decorate the room with eclectic furniture, modern art, and Avant grade light fixtures. Romanek Design Studio opted for a dusty rose tone to complement the warmer grains in the marble.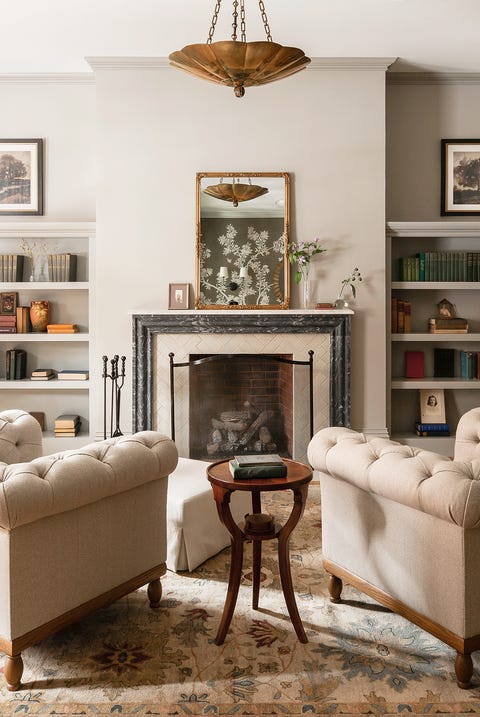 Gert Cozy
Arrange seating to face the fireplace or all the cozy feels. Designer Jae Joo opted for two comfy, oversized armchairs facing the fireplace rather than a sofa angled towards two chairs or a wall.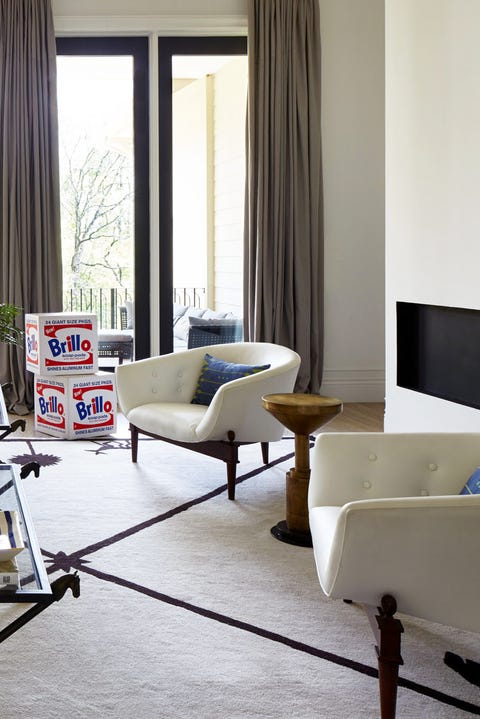 Camouflage It
For ultra-modern fireplace design inspiration, look no further. In this living room designed by Raji RM, the firebox is flush with the wall for a camouflaged, barely-there effect.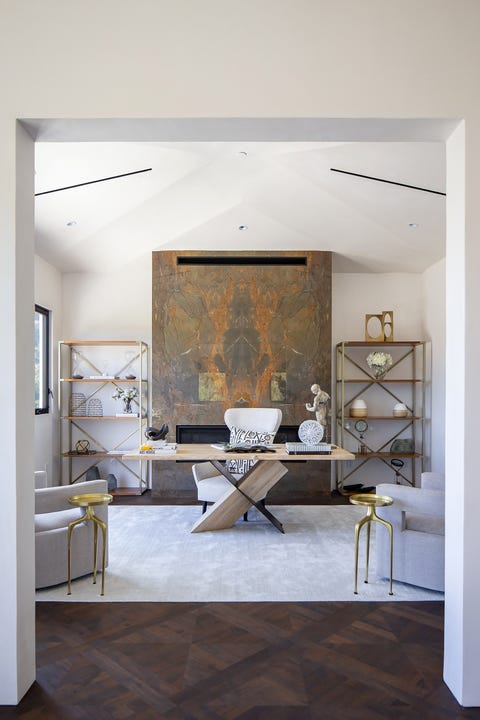 Ryan Garvin & Tyler Hogan
Warm Up the Room
An open and airy home office designed by Breegan Jane gets warmer touch with this earth-toned marble fireplace. The material introduces a sophisticated, formal style to the more casual elements, and it also helps to bring the scale of the ceilings down to a more intimate, human scale.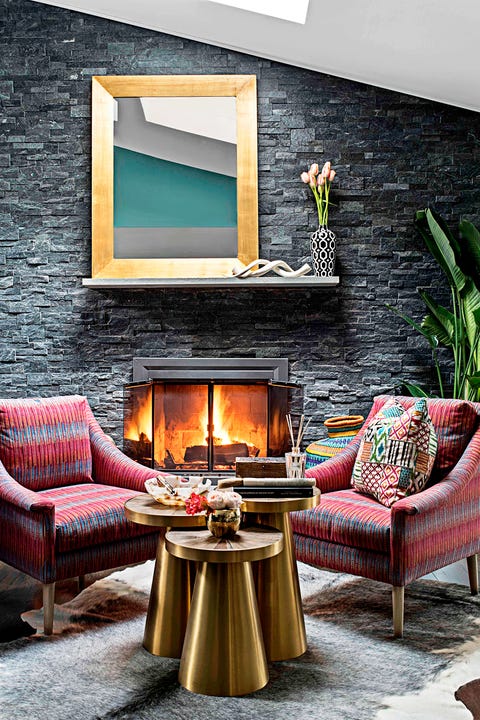 Bring It Back to Life
This fireplace felt outdated to designer Keia McSwain of Kimberly + Cameron Interiors. So she brought in a mason to maintain the integrity of the original wood-burning fireplace and updated it with a new firebox. Elongated, uneven tile gives the surround more texture and depth.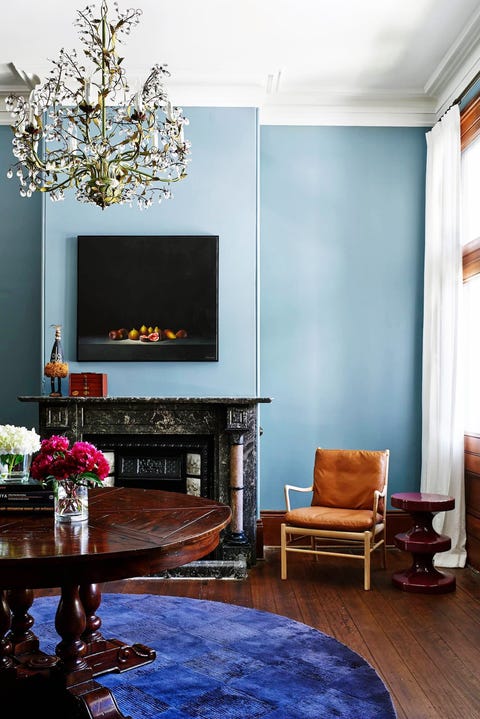 PHOTO: Anson Smart; DESIGN: Arent & Pyke
Brighten Things Up
"The brief was to create an uplifting home filled with color, layered with richness and detail, anchored in the past but inherently contemporary," say the designers behind Arent & Pyke. And they definitely achieved the goal in this living room, from the indigo carpet to the sky blue walls and dainty chandelier, all of which lighten the mood of the traditional and ornate fireplace.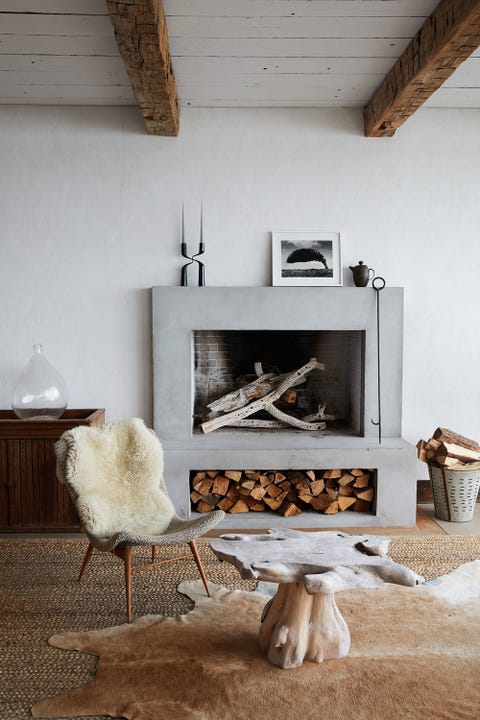 Courtesy of Nicole Franzen
Go Nordic
The recipe for a Scandinavian-inspired room: sheepskin, minimalist decor, and organic furniture. This streamlined fireplace is the perfect fit for the modern, thoughtfully curated, and layered living room. The built-in wood storage compartment is also super h handy.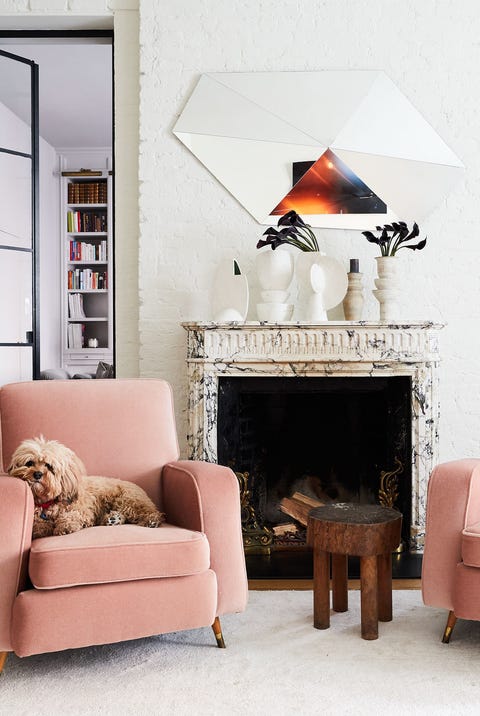 Modern Art
If you love eclectic decorating, take notes. All the juxtaposition in this room is working so well—the angular mirror, vivid orange photography, marble fireplace, rustic stool, and geometric pottery are all unexpectedly complemented by the softness of the blush pink chairs.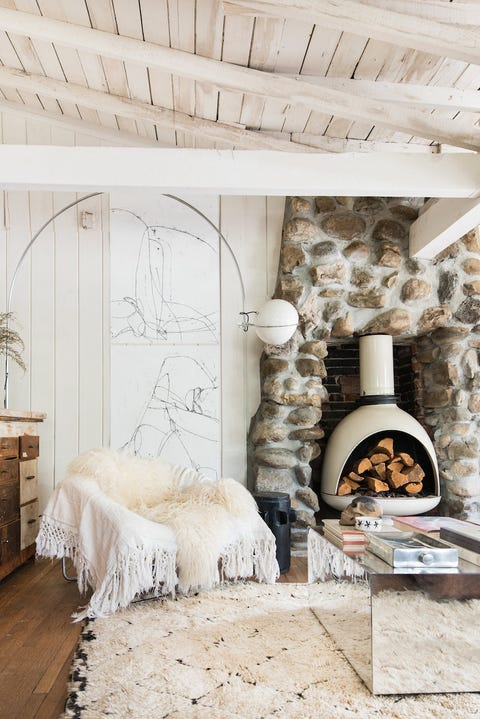 PHOTO: Tessa Neustadt; DESIGN: Leanne Ford Interiors
Have Fun With It
A stone facade fireplace helps warm up the all white living room designed by Leanne Ford. It gives it midcentury character without feeling kitschy, thanks to the bold mirrored table, arc light, and line drawing duo.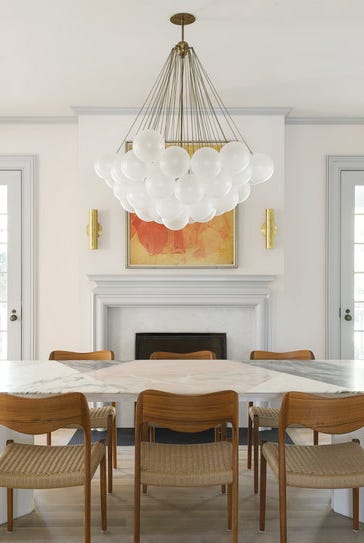 Embrace Color
Though the fireplace is simple in this dining room designed by Studio DB, bright and cheerful artwork creates texture and dimension, contributing to the space's sophisticated yet approachable feel. We also love how to the symmetry of the lighting and two gold sconces.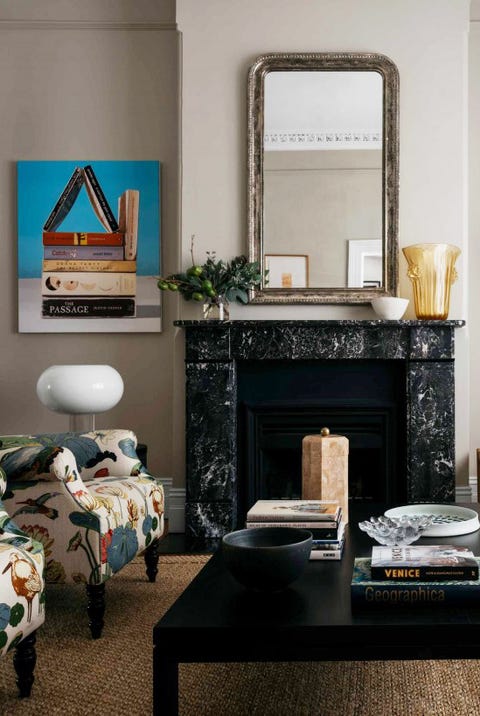 PHOTO: Felix Forest; DESIGN: Arent & Pyke
Add an Edge
A black marble fireplace strikes the perfect balance between edgy and timeless. It anchors this living room designed by Arent & Pyke, which get a contemporary lift from the jute rug, modern and bright artwork, and shapely table lamp.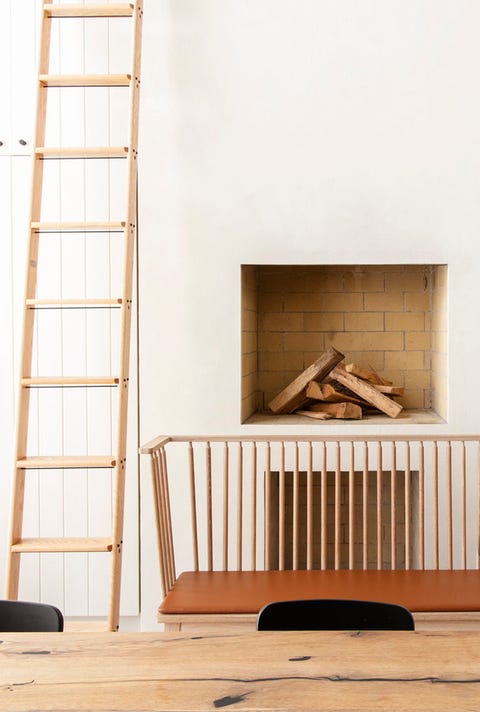 PHOTO: Dustin Askland; DESIGN: Elizabeth Roberts Architecture & Design
Consider Major Changes
It's hard to believe this ultra-modern dining room setup was an outdated 19th-century brownstone before Elizabeth Roberts Architecture and Design got their hands on it. "The finishes and fittings throughout the house are entirely new, and were designed to refer both to the history of the building, and clients' desire for a contemporary home," says the firm.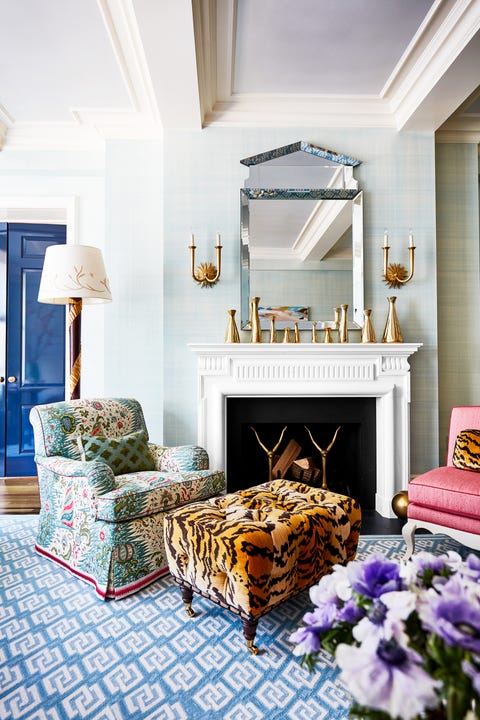 Strike a Balance
While this Upper East Side has traditional roots, interior designer Philip Thomas brings in plenty of fun, from the tiger-print fabrics to the shiny details by the fireplace. Line your mantle with vases of a similar style or color but in different shapes for a similar balance of intrigue and cohesion. The sunburst double sconces and firewood holder reflect the metallic theme without overwhelming the rest of the living room.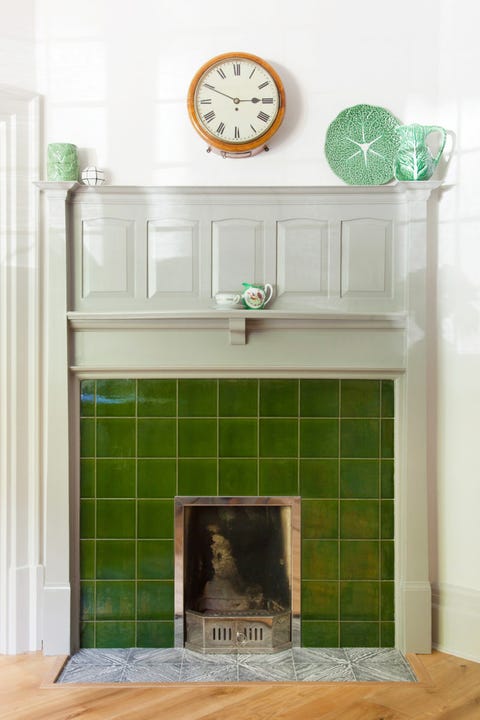 Work Around Existing Elements
Instead of completely renovating an old fireplace, work with the existing design. For example, "bespoke encaustic tiles sit beautifully with the original deep green glazed tiles of the fireplace," say the design duo behind 2LG Studio. Embrace the colors with little decorative pieces in a similar tone.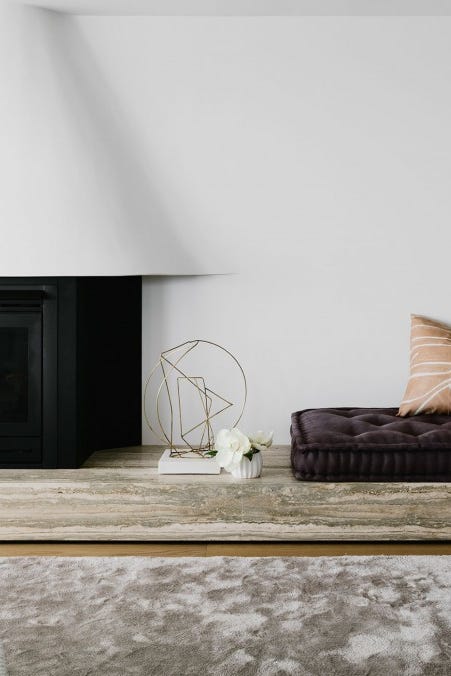 PHOTO: Felix Forest; dESIGN: Arent & Pyke
Pay Attention to Texture
With a marble base partially covered in with a deep eggplant-hued seat cushion, a cheerful throw pillow, and iridescent mauve carpeting, there's so much attention to touch and texture in this fireplace sitting area designed by Arent & Pyke. And then there's the real showstopper: That fireplace. "Effectively a meditation on curve, tone and texture, the soft sculptural shapes of the built elements, such as the curve of the new fireplace, are complemented by the soft curves of the furnishings," the designers say.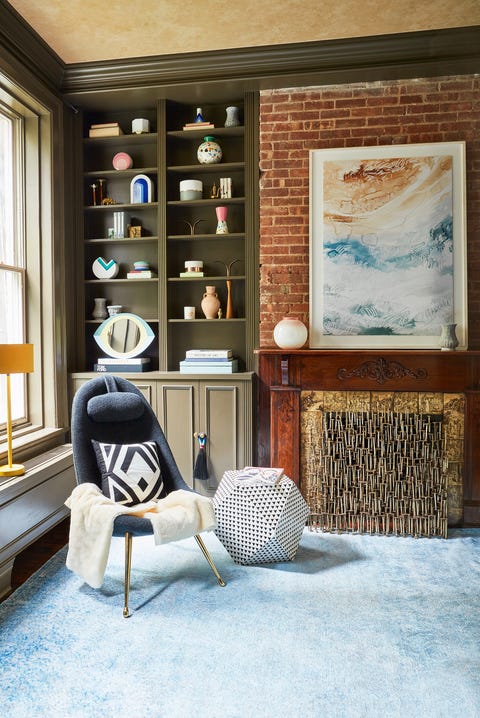 Choose a Stylish Screen
This living room boasts a handsome vibe with clear midcentury roots. To play up the history-rich feel of exposed brick, cover your fireplace with a brutalist screen. Then bring the space to the modern moment with an abstract photograph on the mantle.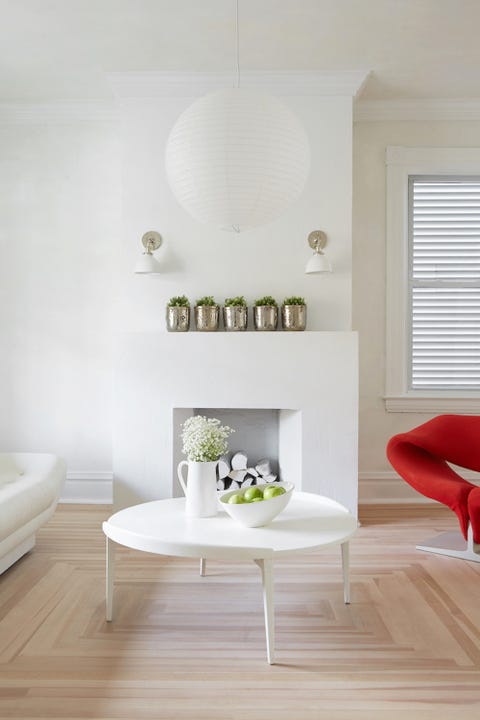 PHOTO: Reid Rolls; DESIGN: Leanne Ford Interiors
Be Consistent
We're digging the all-white aesthetic in this Parisian home designed by Leanne Ford. Even the firewood is painted white! We'll let that be a lesson in consistency and attention to detail. The mantle stands out thanks to those Schoolhouse electric sconces and brushed silver plots. And how could we forget that bright red Pierre Paulin Ribbon Chair?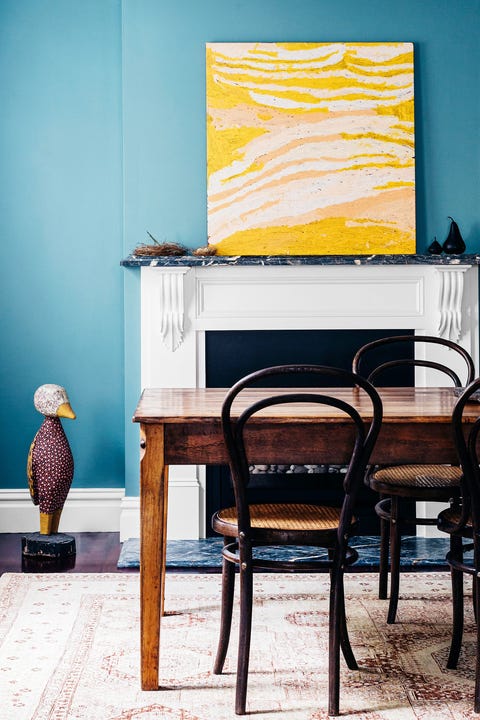 PHOTO: Felix Forest; DESIGN: Arent & Pyke
Pick a Theme
Though simple, this dining room designed by Arent & Pyke adds some playful personality by running with a bird theme. From the antique bird statue watching over the fireplace to the bird's next on the mantle, these little details add a sense of humor to the formal and stylish space.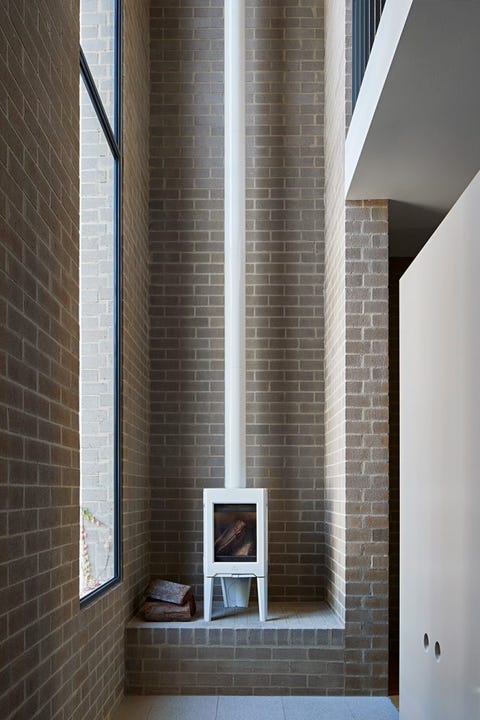 PHOTO: Shannon McGrath; DESIGN: Hecker Guthrie
Play Up Architectural Elements
This humble little fireplace packs a big punch. Australian design firm Hecker Guthrie explains that, "whilst the overall aesthetic is one of minimal restraint, the house overwhelms with its abundance of light and connection to the landscape." Now that's how you make an old-school wood-burning fireplace look fresh.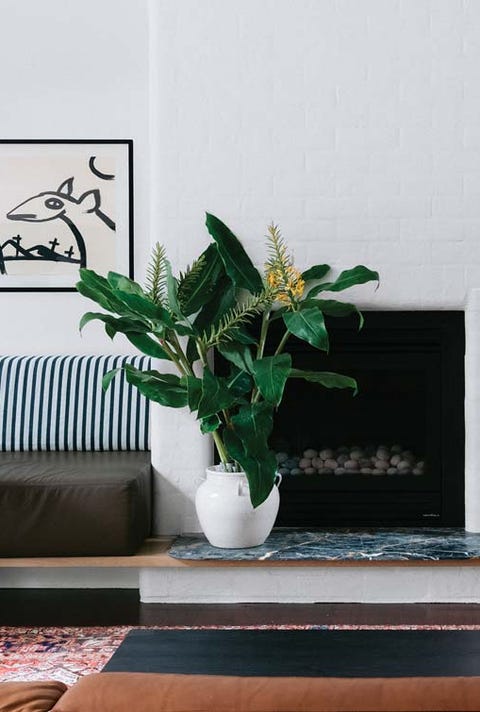 PHOTO: Felix Forest; DESIGN: Arent & Pyke
Display a Large Plant
Arent & Pyke call this space "richly layered with bespoke interior elements that add fun, joy and intrigue" to create "a new visual language for the family home. The quintessential motif of the fireplace, for example, has been introduced as an expansive and inclusive device that draws the whole family together." There's no denying how much life that large plant introduces, too.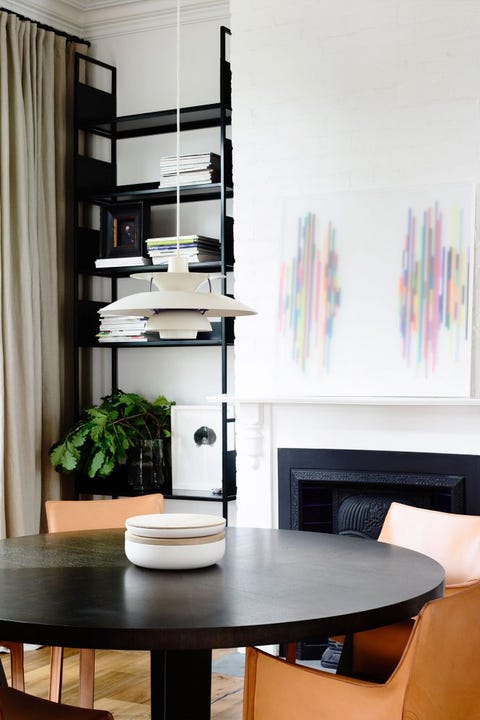 PHOTO: Derek Swalwell; DESIGN: Hecker Guthrie
Lean Abstract Artwork
For easy, modern elegance, simply prop up abstract artwork on the mantel. This exudes a laid-back charm, as demonstrated in this Hecker Guthrie-designed dining space.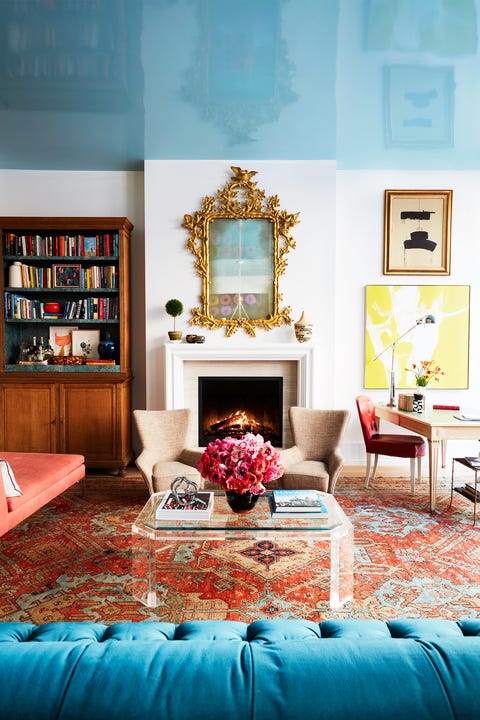 Mix Old and New Styles
Here's another living room that knows how to honor tradition and think creatively at the same time. Designer Nick Olsen gives classic items—like the Persian rug, chestnut bookcase, mini topiary on the mantle, and ornate mirror above the fireplace—a modern twist with an angular glass coffee table and shiny sky blue ceiling paint.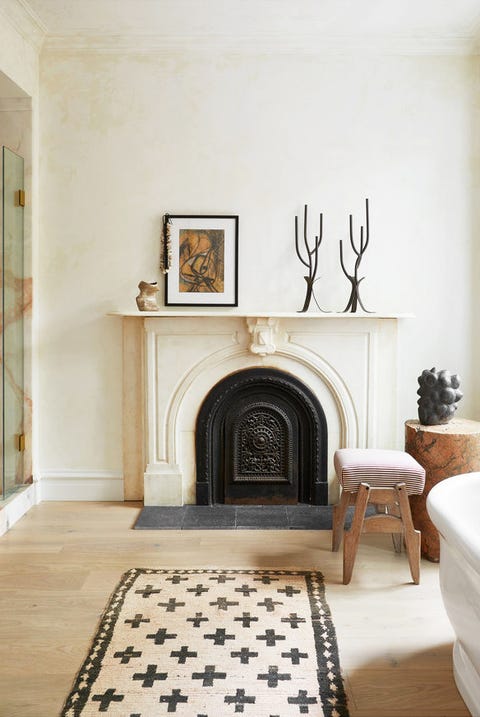 PHOTO: Dustin Askland; DESIGN: Elizabeth Roberts
Make It the Focal Point
If you have a fireplace in the master bathroom, dress it up with candles and artwork like you would in any other room, as Elizabeth Roberts Architecture & Design did here. It'll set the scene for romantic and relaxing bubble baths.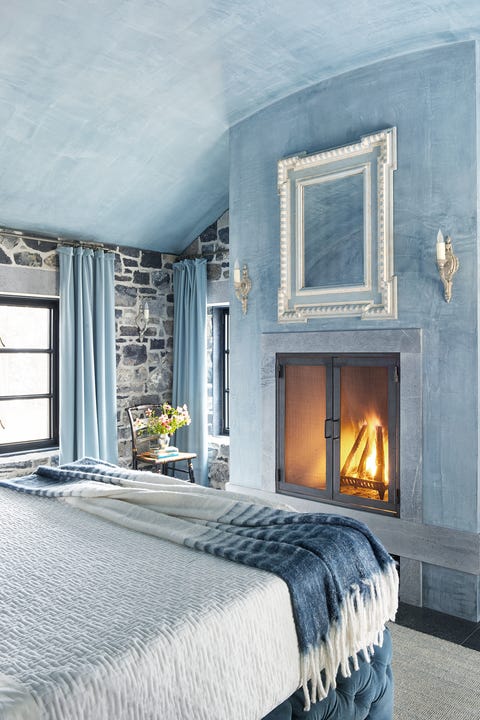 Get Creative With Materials
A bedroom with a fireplace will ignite the passion like no other. Rather than using stone for the fireplace, decorator Cathy Chapman opted for a more modern design surrounded by a custom blue paint and then brought the stone material to the walls for that old school romance and charm. "The stones used for the walls came from a quarry a couple miles away," she tells us.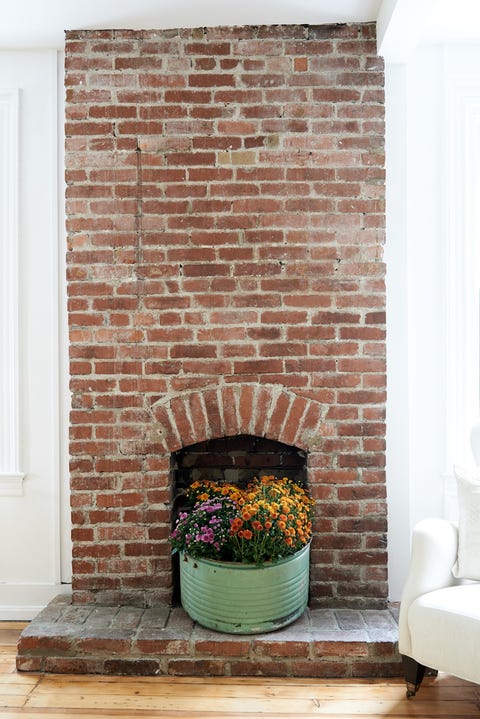 PHOTO: Alexandra Ribar; DESIGN: Leanne Ford Interiors
Put Plants on Display
Just because your fireplace doesn't work as a fireplace doesn't mean it can't serve some kind of value. Take notes from Leanne Ford and beautify it by added putting a large planter with colorful flowers where firewood would typically go.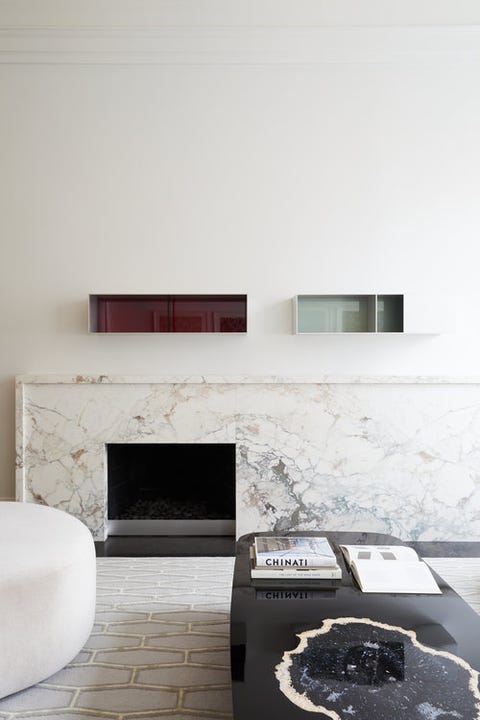 Don't Overdo It
Everything in this living room is playing with shape. While the marble mantle and glossy floating shelves are angular and sharp, the coffee table and ottoman are soft and rounded. The use of natural materials makes the room feel rich even though there's not much in it. The facade of the fireplace marries the varying textures and shapes throughout the room.
This content is created and maintained by a third party, and imported onto this page to help users provide their email addresses. You may be able to find more information about this and similar content at piano.io